479-474-1153
2530 Fayetteville Rd
Van Buren, AR 72956
Hail Damage Repair
Hail storms can cause damage to your vehicle within seconds if exposed to this extreme weather phenomenon. Hail storms produce ice spheres that can cause extensive denting, especially on the hood, roof, and trunk of your vehicle. In some cases, hail can break windshields, as it pounds your vehicle relentlessly.
Fortunately, Gary's Collision Center can help you with these dents and broken windshields, should your vehicle sustain such damage from a severe hail storm. Our highly trained automotive repair specialists can restore your vehicle to pre-hail condition.
Hail Damage Repair Services
Windshield Replacement
Windshield Crack Repair
If your vehicle has been damaged by hail and you want it fixed by a full service auto body and auto glass repair center, look no further than Gary's. Also, receive a written lifetime guarantee on all work. We are your hail damage repair specialist!
Advantages of Choosing Gary's Collision Center for Hail Damage Repair
Quality Workmanship
Direct Billing to Insurance
Written Lifetime Guarantee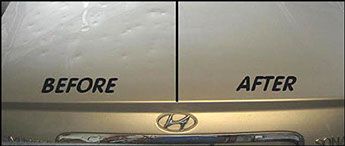 Gary's Collision Center 2530 Fayetteville Rd Van Buren, AR 72956 479-474-1153